Dr. Alfy
Dr. Alfy graduated top of his class clinically with a DDS degree from Loma Linda University in Southern California. Upon graduation, he was presented with the "Highest Quality of Care and Compassion for Patients" award. Prior to that, he received his bachelor's degree from Union College in Lincoln, NE finishing Magna Cum Laude with honors.
Dr. Alfy has been transforming many smiles in Monterey County and the Silicon Valley since his graduation from dental school. Patient comfort is his top priority. He has extensive training and successful experience in Dental Implants, Cosmetic Dentistry and Full Mouth Reconstruction. He is detail oriented and always considers the future as he formulates treatment plans.
Dr. Alfy and his wife moved to the Monterey Bay area in August of 2014 with their young son. Now they have two sons who are the joy of their lives. When not providing outstanding dental care, Dr. Alfy enjoys traveling, spending time with family and friends, and participating in mission trips. Several years ago, he was able to travel to Cascas, Peru on a dental mission trip and he looks forward to many more opportunities to combine his passion for traveling and helping others.
---
Dr. Matthew Parilla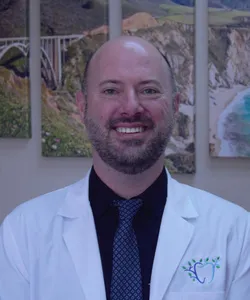 Dr. Parilla completed his undergraduate degree at Michigan State University before attending Nova Southeastern University College of Dental Medicine in Florida, where he earned his DMD dental degree.
After graduating in 2005, he enhanced his dental skills by completing a rigorous general practice residency at New York Medical College in New York City.
Dr. Parilla continued his career at a private practice in Manhattan for several years, before moving to California for a more laid back and relaxed lifestyle. He is thrilled to now be in the Monterey Bay area and enjoying all of the nature and beauty it provides.
Dr. Parilla works closely with his patients to formulate personalized treatment plans that work best for each individual, greatly improving oral health. He looks forward to working with you to achieve all of your dental goals.