Posts for tag: nutrition
By Cypress Dental
April 24, 2018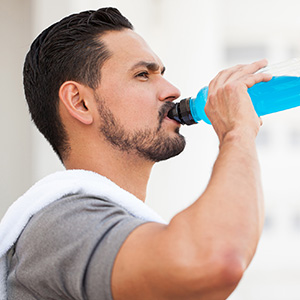 In the sports world, athletes are always looking for an edge. And it's not just college or professional sports—even Little Leaguers are focused on enhancing their performance.
That's why sports and energy drinks have rocketed in popularity. With marketing pitches promising to increase stamina or replace lost nutrients from strenuous workouts, it's not unusual to find these beverages in sports bags or the team water cooler.
But there's a downside to them regarding your dental health—they're often high in sugar and acidity. Both drink types could increase your risk of tooth decay or periodontal (gum) disease over time.
Sugar is a primary food source for the bacteria that can trigger a gum infection. They also produce acid, which at high levels can erode tooth enamel and lead to tooth decay. The risk for enamel erosion also increases with the drink's acidity.
You can lessen your risk of these unpleasant outcomes by restricting your consumption of these beverages. In fact, unless your sports activity is highly strenuous for long periods, your best hydration choice is usually water.
But if you do drink a sports or energy drink for an extra lift, be sure to take these precautions for the sake of your teeth:
Try to drink them only at mealtimes. Continually sipping on these drinks between meals never gives your saliva a chance to neutralize mouth acid. Reserving acidic foods and beverages for mealtimes will allow saliva to catch up until the next meal.
Rinse with water after your drink. Water usually has a neutral pH. This can help dilute mouth acid and reduce the mouth's overall acidity.
Don't brush right after drinking or eating. Increased acid that can occur right after drinking or eating can immediately soften tooth enamel, but saliva can neutralize and help restore minerals to tooth enamel within an hour. Brushing during this period could remove tiny bits of the enamel's minerals.
Taking these precautions will help keep sports or energy drinks from eroding your tooth enamel. Once it's gone, you won't be able to get it back.
If you would like more information on protecting your tooth enamel, please contact us or schedule an appointment for a consultation. You can also learn more about this topic by reading the Dear Doctor magazine article "Think Before You Drink: Sports and Energy Beverages Bathe Teeth in Erosive Acids."
By Cypress Dental
November 14, 2017
We don't often think about it, but eating is a multi-staged process. It starts, of course, with food that's hopefully high in nutritional value. But you also need coordinated jaw action to chew and shred your food that when combined with the enzymes in saliva can then be effectively digested in the stomach.
But what if you're unable to chew some foods because you suffer from chronic jaw pain and dysfunction? This is the situation for millions of people who suffer from problems associated with the jaw joints—temporomandibular joint disorders (TMD). It's not just the chronic pain and discomfort TMD can cause that's a real issue—it may also be preventing you from eating foods that are healthy for you.
Because TMD can make it difficult to open your jaws wide or causes pain when you bite down, you might especially have trouble with certain fruits and vegetables as well as many meats. Many people opt to skip otherwise healthy foods because they're too difficult to eat. That, however, could lead to lack of proper nutrition in the long run.
But with a few techniques and modifications, you can still include many of these foods in your diet even when TMD discomfort flares up. For one, be sure to cut all your food portions (including toast) into small, bite-sized pieces. These should be small enough to limit the amount of jaw opening required to comfortably place the bite in your mouth and chew. When preparing your food, be sure to peel fruits and vegetables that have skin, which is often hard to chew.
You should also try cooking crisper fruits and vegetables to a soft, moist texture. Choose meat cuts, poultry or seafood that can be cooked to a tender, moist consistency—you can also use gravies and sauces to further moisten them.
And don't forget to chew slowly. Not only does slower eating aid in digestion, it will help you avoid overworking your jaw joints.
With a few adjustments you can have a normal, nutritious diet and minimize the discomfort of your TMD symptoms. Continual healthy eating is a must for overall health and quality of life.
If you would like more information on reducing the impact of TMD on your life and health, please contact us or schedule an appointment for a consultation. You can also learn more about this topic by reading the Dear Doctor magazine article "What to Eat When TMJ Pain Flares Up."