Posts for tag: gum disease
By Cypress Dental
October 01, 2018
Surgical treatment for periodontal (gum) disease can go a long way toward restoring your mouth to good health; however, it does not change your susceptibility to the disease. That's why we recommend that you come in regularly for periodontal cleanings after your treatment. Here are some frequently asked questions about keeping your mouth healthy after gum disease treatment.
How often do I have to come in for periodontal cleanings?
There's no "one-size-fits-all" answer to that question: It really depends on your individual situation. For example, some individuals may have a more aggressive form of periodontal disease that requires more frequent periodontal maintenance (PM) treatments to maintain control. Others may have greater success controlling the buildup of disease-causing plaque with at-home oral hygiene measures, and therefore need PM less often. However, for people with a history of periodontal disease, getting PM treatments at a three-month interval may be a good starting point.
What happens at a periodontal maintenance appointment?
A thorough cleaning of the crown and root surfaces of the teeth, aimed at removing sticky plaque and hardened dental calculus (tartar), is a big part of PM treatments — but there's much more. You'll also receive a thorough clinical examination (including oral cancer screening), a review of your medical history, and x-rays or other diagnostic tests if needed. The status of any ongoing periodontal disease will be carefully monitored, as will your success at maintaining good oral hygiene. Decisions about further treatment will be based on the results of this examination.
What else can I do to keep gum disease at bay?
Keeping your oral hygiene in top-notch condition — which includes effective brushing and flossing every day — can go a long way toward controlling gum disease.  In addition, you can reduce risk factors by quitting tobacco use and eating a more balanced diet. And since inflammatory conditions like diabetes, arthritis and cardiovascular disease can make periodontal disease worse (and vice versa), keeping these conditions under control will greatly benefit both your oral health and your overall health.
If you have additional questions about maintaining oral health after gum disease treatment, contact us or schedule an appointment.
By Cypress Dental
April 14, 2018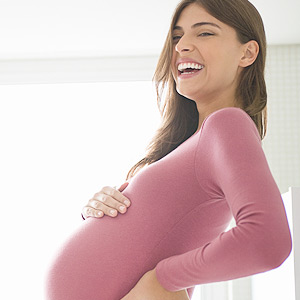 For a healthy pregnancy, it helps to have healthy teeth and gums. In fact, the American College of Obstetricians and Gynecologists (ACOG) encourages its members to advise expectant moms to see their dentist. But maintaining oral health can be more challenging when you're expecting. For one thing, hormonal changes make you more susceptible to periodontal (gum) disease, which has been linked to "systemic" (general body) health problems including preterm labor and low birth weight.
Periodontal (gum) disease results from the buildup of bacterial plaque on tooth surfaces in the absence of good oral hygiene. It typically starts as gingivitis — inflammation and redness around the gum margins and bleeding when brushing and flossing. If the infection progresses, it can attack the structures supporting the teeth (gums, ligaments, and bone) and may eventually result in tooth loss. And if the infection enters the bloodstream, it can pose health risks elsewhere in the body. Studies suggest that oral bacteria and their byproducts are able to cross the placenta and trigger an inflammatory response in the mother, which may in turn induce early labor.
TLC for Your Oral Environment
Brushing twice daily with fluoride toothpaste and flossing or using another interdental cleaner at least once daily is your first-line defense again bacteria buildup. Professional cleanings are also important to remove hardened plaque (calculus) that brushing and flossing may miss. And regular checkups can catch problems early to avoid or minimize adverse effects. Periodontal disease and tooth decay aren't always painful or the pain may subside, so you won't always know there's a problem.
Dental emergencies such as cavities, root canals and tooth fractures should be treated promptly to address pain and infection, thereby reducing stress to the developing fetus. Of course, if you know you need a cavity filled or a root canal prior to becoming pregnant, that's the optimal time to get treated!
If you would like more information about dental care during pregnancy, please contact us or schedule an appointment for a consultation. You can also learn more about the subject by reading the Dear Doctor magazine article "Pregnancy and Oral Health."
By Cypress Dental
December 14, 2017
You have a great smile: beautiful white teeth all perfectly aligned. But unbeknownst to you, periodontal (gum) disease might even now be damaging your gum tissues, setting the stage for future tooth and bone loss — and a ruined smile.
While it's easy to miss the early stage of this disease caused by bacterial plaque on tooth surfaces, there are a few signs if you pay close attention. Bleeding gums after moderate brushing or flossing could indicate normally resilient gum tissues have begun to weaken. You may also notice a slight redness and swelling around the margins of the gums and a bad taste or breath. As it progresses, you may experience painful abscesses (infected pockets that develop between the gums and tooth) and loose teeth, a late sign of tissue detachment and bone loss. If you are a smoker, nicotine reduces swelling and bleeding of the gums, removing signs you have a disease. If you smoke, you need to see your dentist regularly.
While renewed daily oral hygiene is important for stopping gum disease, you may also need professional care to bring it under control. The main treatment calls for the manual removal of plaque and calculus (hardened deposits of plaque) that are sustaining the infection. Dentists and hygienists both can perform scaling, which removes plaque and calculus at or just below the gum line, and root planing to clean accessible root surfaces.
In more advanced cases, though, you may need the services of a periodontist, a specialist in treating diseased or injured gums, bone and other connective tissues that support the teeth. They're also skilled in more advanced treatments like gum flap surgery that more fully exposes a tooth's root area for plaque and calculus (or tartar) removal, or tissue grafting procedures that improve the health and appearance of damaged gums.
If you suspect you have gum disease, the place to start is with your family dentist. They can determine if your case will respond to basic scaling, root planing or antibiotic treatment. If the disease appears more advanced or with complications, they will most likely refer you to a periodontist for treatment.
If you've already seen bleeding, swelling or redness, see your dentist as soon as possible. The sooner you begin treatment for any case of gum disease, the less likely it will lead to the loss not only of your teeth but your beautiful smile.
If you would like more information on the treatment of periodontal (gum) disease, please contact us or schedule an appointment for a consultation. You can also learn more about this topic by reading the Dear Doctor magazine article "When to See a Periodontist."