Posts for tag: crowns
By Cypress Dental
July 12, 2021
Since his breakout role as Dr. Doug Ross in the 90's TV drama ER, George Clooney has enjoyed a blockbuster career as an award-winning actor, director and producer. He's still going strong, as seen in the recent film The Midnight Sky, which Clooney directed and starred in. This sci-fi drama set a record as the most-watched movie on Netflix for the first five days after its late December release. And although now well into middle age, Clooney still possesses a winsome charm epitomized by his devil-may-care smile.
But he didn't always have his enigmatic grin. Early on, his struggles pursuing his burgeoning acting career triggered a stressful habit of grinding his teeth. This took a toll, as his teeth began to look worn and yellowed, giving his smile—and him—a prematurely aged appearance.
Clooney's not alone. For many of us, our fast-paced lives have created undue stress that we struggle to manage. This pent-up stress has to go somewhere, and for a number of individuals it's expressed through involuntary grinding or gritting of the teeth. This may not only lead to serious dental problems, but it can also diminish an otherwise attractive smile.
There are ways to minimize teeth grinding, the most important of which is to address the underlying stress fueling the habit. It's possible to get a handle on stress through professional counseling, biofeedback therapy, meditation or other relaxation techniques. You can also reduce the habit's effects with a custom-made oral device that prevents the teeth from making solid contact during a grinding episode.
But what if teeth grinding has already taken a toll on your teeth making them look worn down? Do what Clooney did—put a new "face" on your teeth with dental veneers. These thin layers of porcelain are bonded to teeth to mask all sorts of blemishes, including chips, heavy staining and, yes, teeth that appear shortened due to accelerated wearing. And they're custom-designed and fashioned to blend seamlessly with other teeth to transform your smile. Although they're not indestructible, they're quite durable and can last for years.
Veneers can correct many mild to moderate dental defects, but if your teeth are in worse shape, porcelain crowns may be the answer. A crown, which bonds to a prepared tooth to completely cover it, allows you the advantage of keeping your natural tooth while still enhancing its appearance.
Although different in degree, both veneers and crowns require permanently altering the teeth, such that they will require a dental restoration from then on. But if you're looking for an effective way to transform your worn or otherwise distressed teeth into a beautiful smile, it's a sound investment.
Just like George Clooney, your smile is an important part of who you are. We can help you make it as appealing as possible with veneers or other dental enhancements. Call us today to get started on the path to a more attractive smile.
If you would like more information about dental veneers and other smile enhancements, please contact us or schedule a consultation. To learn more, read the Dear Doctor magazine article "Porcelain Veneers."
By Cypress Dental
June 03, 2018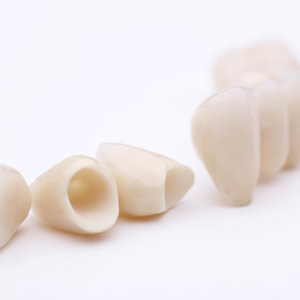 Crowns are a mainstay of cosmetic dentistry used to improve your smile's appearance in a variety of situations. Not all crowns are alike, though — and the differences could affect your cost.
Crowns or caps are needed to cover remaining tooth structure which was previously damaged. Tooth decay and trauma are the major reasons for damage or loss of tooth structure that make crowns necessary. After preparing the remaining healthy tooth to fit into the new crown, we then make an impression mold of the tooth for a dental technician to use to create the new crown. It's at this point where the road to your new smile can take different paths, both in construction and how much artistry goes in to your crown's formation.
Porcelain crown construction falls into two general categories. The first category involves life-like porcelain fused to an inner core of metal. Because many older types of porcelain tend to be brittle and subject to breaking under pressure, metals are used to strengthen the crown. A fused crown can thus provide both durability and a life-like appearance.
In recent years, though, new dental materials have made the second category — all porcelain crowns — a viable option. Either lithium disilicate or zirconium oxide account for nearly two-thirds of crowns made today. Although research on their durability is relatively new, initial results have been encouraging, showing advanced all-ceramic crowns can tolerate forces comparable to porcelain fused to metal (PFM) crowns used in bridges.
On the downside, these newer materials may be more expensive than PFM crowns. Costs for manufacturing may also increase depending on how life-like the matching of color with other teeth you desire your crown to be. For example, individual teeth aren't a uniform color — there are gradations of color that can vary from the tip of the tooth to the root. To capture these gradations in an individual crown requires a high level of artistry and time by the dental technician, which increases the final cost.
If you're in need of a crown, it's best to first make an appointment for a consultation to review your options, and to consider both your expectations and financial ability. Together we can determine what it will take to create a new look for your teeth that fits your expectations and your budget.
If you would like more information on dental crowns, please contact us or schedule an appointment for a consultation.
By Cypress Dental
March 30, 2018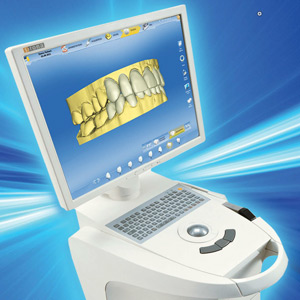 The traditional way to restore a tooth with an artificial crown takes several weeks and multiple office visits: from tooth preparation and impression molding to crown production by a dental laboratory, followed by adjustments and cementing. Now, there's an alternative that reduces this process to a fraction of the time, and all from your dentist's office.
Computer-Aided Design/Computer-Aided Manufacturing (CAD/CAM) is a digital system that enables dentists to create dental restorations with laboratory-grade materials in minutes rather than weeks. As it continues to innovate, you'll see more and more dentists investing in the new technology for their patients.
A crown restoration with CAD/CAM begins like any other with decay removal and preparation of the tooth. It diverges, though, from the traditional in how an impression of your teeth and gums is obtained: instead of rubber-like molding materials to create a physical impression, we lightly dust the mouth interior with a reflective powder. Using a scanning wand, the reflective powder allows us to capture multiple, detailed images of your mouth that the CAD/CAM computer transforms into an accurate three-dimensional model.
We use the model to first assess if the tooth has been effectively prepared for a restoration. If so, the design feature of the system will provide us with thousands of tooth forms to choose from to match with your natural teeth. You'll be able to view the proposed size and shape of the new crown via computer simulation before signing off on the design.
Next is the actual manufacture of the crown that takes place right in the dentist's office. A pre-formed block of ceramic material is inserted in the milling equipment where, following the pre-determined computer design, the milling heads carve the ceramic block. After milling, we fine-tune the crown surface and apply stains or glazes fired to create a life-like color and texture that matches your natural teeth. We can then adjust the crown in your mouth and permanently affix it to the tooth.
While much of the CAD/CAM system is automated, ultimate success still depends on the dentist's expertise and artistry. CAD/CAM enhances those skills with greater precision and in much less time than traditional crowns. It's certainly a growing option for many people to restore the form and function of decayed teeth.
If you would like more information on computer-aided dental restorations, please contact us or schedule an appointment for a consultation. You can also learn more about this topic by reading the Dear Doctor magazine article "Creating In-Office Dental Restorations with Computers."