Posts for: December, 2018
By Cypress Dental
December 21, 2018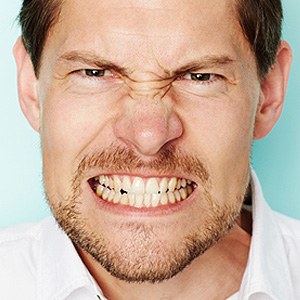 Your teeth naturally wear as you age, but you may be making it worse if you grind your teeth.
Teeth grinding is a behavior that causes the teeth to gnash, grind or clench against each other generating forces greater than those produced from normal biting. These forces often result in tooth wear that cause not only functional problems but result in a more aged appearance. Grinding occurs while a person is awake, but most often episodes occur while asleep at night.
Teeth grinding is quite common in children, but not usually of great concern since most grow out of it. There's even a school of thought that teeth grinding might even help readjust an uneven bite.
Among adults, though, other factors seem to contribute to teeth grinding. Many researchers believe nighttime grinding occurs as a person passes through different sleep phases including deep REM (Rapid Eye Movement) sleep. It may also have a connection with chronic snoring.
Certain medications seem to contribute to teeth grinding, particularly psychoactive drugs like amphetamines. Nicotine falls in this category, which could be why tobacco users report twice the incidence of the habit compared to non-users. Teeth grinding is also connected to another fact of modern life: stress. People who grind their teeth tend to have higher levels of anxiety, hostility or depression.
Because there are multiple triggers, there are many treatment approaches. Whatever course we take, our aim is to eliminate or minimize those factors that contribute to your habit. For example, we can create a custom mouth guard for night wear to prevent the teeth from making solid contact and thus reduce the biting pressure.
Perhaps the most important thing is to control or reduce stress. This is particularly helpful at night to prepare you for restful sleep by changing some of your behaviors. We also encourage investigating other stress therapies like biofeedback, meditation or group therapy.
Whatever the means, bringing teeth grinding under control not only reduces problems now, but could also help prevent abnormal teeth wearing and future health issues down the road.
If you would like more information on causes and treatments for teeth grinding, please contact us or schedule an appointment for a consultation. You can also learn more about this topic by reading the Dear Doctor magazine article "Stress & Tooth Habits."
By Cypress Dental
December 11, 2018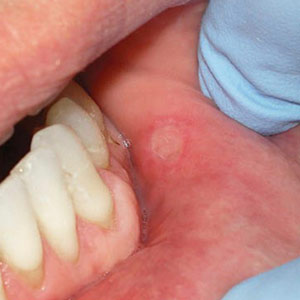 Sometimes it's the little things that can be most annoying. Those occasional small sores that pop up on the inside of your mouth are a case in point. Although in most instances they won't last long and aren't anything to be alarmed about, they can still cause you some discomfort.
These small sores are called aphthous ulcers or more commonly "canker sores." They are breaks in the skin or mucosa, the inner lining of the mouth, and occur most often on the inside cheeks, lips, tongue and occasionally on the soft palate at the back of the throat. They usually appear round with a yellow-gray center and an intensely red outer ring or "halo."
Canker sores often appear during periods of high stress or because of minor trauma, and usually last for a week or two. They often have a tingling pain that can be aggravated when you eat and drink acidic or spicy foods and beverages. About 20 to 25% of people have a form known as recurrent aphthous stomatitis (mouth inflammation) that occurs regularly with multiple sores and heightened pain.
It's possible to manage the discomfort of minor, occasional bouts with a number of over-the-counter products that cover the sore to protect it and boost healing, with some providing a numbing agent for temporary pain relief. For more serious outbreaks we can also prescribe topical steroids in gels or rinses, injections or other medications.
While canker sores don't represent a health danger, there are instances where you should take outbreaks more seriously: if a sore hasn't healed after two weeks; if you've noticed an increase in pain, frequency or duration of outbreaks; or if you're never without a sore. In these cases we may need to biopsy some of the tissue (and possibly run some blood tests) to ensure they're not pre-cancerous or cancerous.
In any event, we can work with you to reduce your symptoms and help the sores heal quickly. This particular "little thing" in life doesn't have to stress you out.
If you would like more information on mouth sores, please contact us or schedule an appointment for a consultation. You can also learn more about this topic by reading the Dear Doctor magazine article "Mouth Sores: Understanding and treating canker sores."